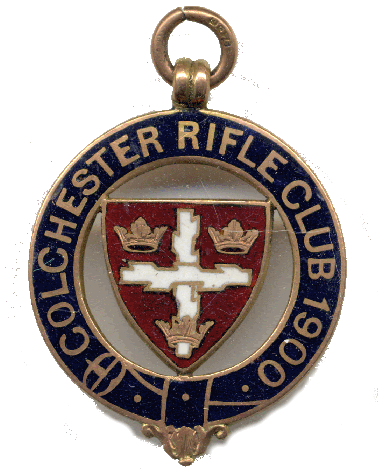 ---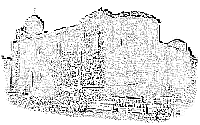 Colchester Rifle Club
---
A Century of Shooting
---
What does a rifle club do to celebrate its one hundredth birthday? That was the question posed in 1999 as Colchester Rifle Club approached their Centenary. The modern club movement can trace its roots back to 1900 since, following the disastrous first Boer War campaign, questions were raised in the House of Commons regarding the Army's inability to replace casualties with adequately trained men. The Hon. T.F Fremantle, later 1st Lord Cottesloe, with Capt. E.C.H. Grant who was D.A.A.G for musketry at Aldershot and A.P. Humphry representing the N.R.A., were requested to undertake a fact finding mission to investigate Switzerland's rifle club movement.
The full report appears in a history of the N.R.A., "The National Rifle Association 1850 - 1909", and makes interesting reading. In 1898 Switzerland had 3,446 rifle clubs, with a membership of 210,491 which expended 16,152,500 rounds of ammunition. 163,409 members fired what was called " a regulation course". The Swiss Government paid the clubs the value of the ammunition. If a member made the regulation score in less than regulation rounds, he could claim the value of the unexpended rounds as an incentive. After the report was published, the N.R.A. Council set about encouraging the formation of local rifle clubs in Britain and, by the end of 1900, ninety-two clubs had affiliated with a membership of over 6,000. Colchester Rifle Club was number 35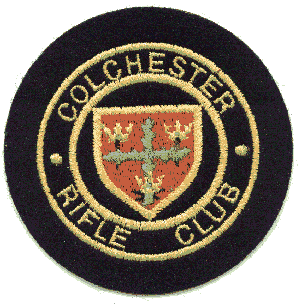 .
Colchester R.C. records show a series of matches taking place on the newly opened Middlewick Range. These started on the 20 th. September 1900, between the club and the sergeants of the 4th. Battalion, The Royal Warwickshire Regiment. It was agreed that a suitable way to commemorate the club's centenary would be to organise a re-match. Club stalwart Anne then set about finding the Royal Warwickshire Regiment (R.W.R), which was not as easy as it may sound.
Over the intervening years the regiment had gone through several re-organisations and amalgamations. These led to the regiment being merged within the Royal Regiment of Fusiliers T.A., based in Birmingham. Contact was made and the challenge accepted. Les King, aided by Terence Smith, undertook the organisation and, with the permission of the Garrison Commander, Middlewick ranges were booked for the weekend of 11th / 12th September. The match was to be teams of twelve shooting at 200 and 500 yards. But the rifles and TARGETS would be of the 1900 period.
For perhaps the last time in a single match, a collection of .303's were gathered together including fifteen Long Lee's, a Martini Enfield, some early SMLE's and two Ross rifles. The assembly included a Tippins Long Lee, kindly loaned by the NRA museum. This rifle had been used by Mr. S.A Pixley in 1909 to make a record score of 105 x 105. Luke Tippins and his son John were both members of C.R.C. They lived at Mistley on the River Stour. Luke was the local schoolmaster, but his interest in rifles and ballistics led him to leave his profession and become a full time gunsmith. Many of his rifles and shotguns are still to be found in this country and others have been found as far away as Australia.
Luke was a man who did not mince his words, as anyone who has read his book "Modern Rifle Shooting" will know. He was a member of all the C.R.C. teams which challenged the R.W.R in the original matches. John Tippins won the Service Rifle Championship in 1911. He was a contemporary both of L.Cpl. H. Ommundsen and of Arthur Fulton. Ommundsen won the King's Prize in 1901 and was five times winner of the Service Rifle Championship between 1905 and 1913. He also won the Bisley Grand Aggregate three times and was runner up twice between 1900 and 1912. Until four years ago, Arthur Fulton was the only man to win the King's / Queen's prize three times, a feat now shared by Alain Marion. In a poll taken around 1912, John Tippins was voted by his peers to be among the 10 best marksmen in the world. Sadly both John and L.Cpl Ommundsen were to be killed in the first year of the Great War. John, aged 27, shot through the heart while fetching water for a machine gun.
THE CENTENARY MATCH
The R.R. of Fusiliers' team were to travel down to Colchester on the Friday evening. Saturday morning was intended as an introduction with an informal match using the Fusiliers' SA 80's on the electronic target system. The afternoon was to be spent shooting .22" Long Lee and S.M.L.E. trainers to familiarise their team with rifles which only two or three of them had previously experienced. Things did not work out according to plan! One of their vehicles broke down on the A14, and it was 5.30 am before they arrived at Colchester Garrison. Col. Sgt. Sean McGarr still managed to appear on the range at 8.30 and explain that his team had not yet enjoyed 2 hours sleep. It was therefore agreed to shorten the day in order that they could rest a little longer. Saturday turned out to be one of the hottest September days on record and the C.R.C. members, who had decided to dress in period costume for the match, were beginning to doubt the wisdom of the idea.
When the Fusiliers arrived, justifiably bleary eyed, they set to zeroing the SA 80's, which had come straight from being serviced. This having been done, lunch was abandoned, and time was found for a 40 round shoot on the electronic target system. We were pleasantly surprised how well these rifles performed. Several tight groups and respectable scores were achieved, including a creditable 37 hits out of 40 for Les , who then announced that in the heat of the "rapid fire" moment he had put one round on Terence's adjacent target and that he'd anyway only been issued with 38 rounds! Some of our guests were beginning to show signs of nervousness.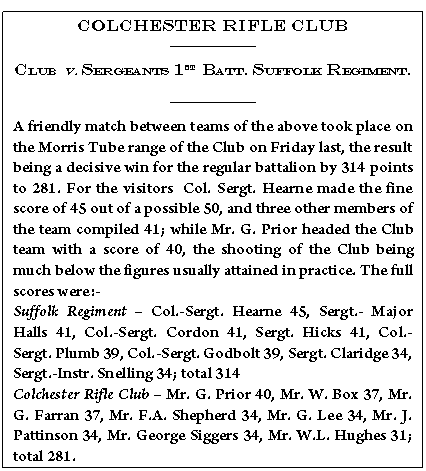 Late afternoon saw everybody transferred to our Layer Road range for a barbecue and the practice with our .22" training rifles. The Fusiliers then "retired" to experience the bright lights of Colchester, as recently advertised on television, and ready for the following day's match. Sleep never seemed high on their list of priorities!
Left: a newspaper report of an equivalent Morris Tube match between C.R.C and the Suffolk Regiment's 1st. Battalion in 1901
Sunday morning dawned, a little cooler and with a hint of cloud. Some of our guests had an unfortunate experience with a curry the previous evening and were nursing sore heads amongst other things. Being trained soldiers they persevered.
The Fusiliers mounted the firing point and it was an education to see the expressions on some of their faces as they inspected the rifles with which they were required to compete. Did men really shoot these things in the OLD days? Many of our team had only fired the rifles once themselves, but that was another story. Suffice it to say that what should have been a two-hour trip down to Bisley for a practice two weeks earlier, turned into a five hour nightmare with two changes of coach. The trip included going in the wrong direction along the A12 looking for diesel, before spending time viewing traffic from the hard shoulder of the M25. This whilst awaiting the third coach.
Colchester shot first with the Fusiliers spotting. The course of fire was 3 sighters and 10 rounds to count. Giving a maximum score of 50. It was agreed that no sighters would count until the first bullet hit the target. This turned out to be a wise precaution. The last of the 200 yd. details saw Colchester with a team total of 502 .The highest individual score being 45 from J. B. The Fusiliers' total was 467, their highest scorer being Cpl. Richards with a 47. This was also the highest score at that range, a very good score for anyone with these rifles. Cpl. Richards confessed that he had shot .303" before in the cadets, perhaps a little more recently than most of our own team members' cadet experience.
All then moved back to 500 yards where Les proceeded to put up a 50 x 50. This feat was achieved using a Long Lee with it's original Metford barrel. The best score from the Fusiliers being a 45 again by Cpl. Richards. The totals for the range were 467 for C.R.C. and 309 for the R.R. of Fusiliers. The final scores were 969 for Colchester and 721 for the Royal Regiment of Fusiliers.
One notable member of the Colchester team was Steve , who shot in the 1999 Palma Team and also won the South African State Governor's Prize during the recent England Tour. Another was Andrew, a Life Member of the Club, a double Queen's Prize winner and Commonwealth Games Gold medallist. Andrew was heard to say that he had not needed to hire period dress. What he usually wore was perfectly representative! Both these world class shots assured all present that they were not proficient with the Service Rifle of the 1900's.
There followed a picnic lunch and the cutting of a Centenary cake. Informal speeches were made by the club's President, Hugh; by event organiser Les, and by Col. Sgt. McGarr for the Fusiliers. The Fusiliers presented the club with a regimental shield and a fine statuette of their mascot and fusilier handler (currently one of their team as it happened). The R.R.F. team members then presented each of their Colchester counterparts with a regimental cap badge surmounted by its red and white hackle.
Colchester returned the gesture with a presentation of the club shield and the promise of specially designed wire badges linking the Colchester and Regimental crests. These had been held up in the post. Newly struck hundredth anniversary medals were presented to the three highest aggregate scorers from each team. The teams parted with a genuine feeling that the event had been well worth all the hard work, and with an expressed wish that another
RESULTS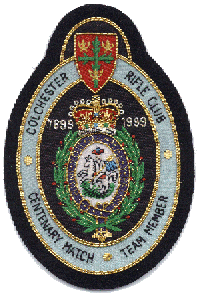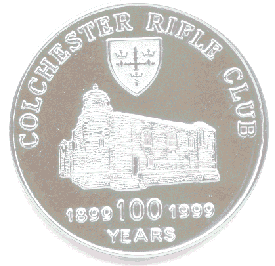 | | |
| --- | --- |
| Colchester Rifle Club | Royal Regiment of Fusiliers |
| | |
| | Silver ~ W. L/ Cpl. Birch |
| | Bronze ~ Col. Sgt. McGarr |
| | | | | | | | |
| --- | --- | --- | --- | --- | --- | --- | --- |
| NAME | | | Total. | NAME | | | Total. |
| Tucker | | | 87 | L/Cpl Rowley | | | 63 |
| Cerrino | | | 71 | L/Cpl Johnson | | | 55 |
| Penrose | | | 88 | Fus. Patton | | | 58 |
| Ireland | | | 75 | Fus. Johnson | | | 60 |
| Birkin | | | 91 | Fus. LeMaster | | | 43 |
| Hunt | | | 71 | Cpl. Richards | | | 92 |
| King | | | 94 | W/L/Cpl. Birch | | | 85 |
| Bolton | | | 66 | W/Fus. Stuart | | | 25 |
| Smith | | | 88 | Cpl. Gauntlet | | | 33 |
| Harvey | | | 84 | Cpl. Carruthers | | | 64 |
| Russell | | | 85 | C/Sgt. McGarr | | | 72 |
| Little | | | 69 | Fus. Clarke | | | 71 |
| TOTALS | | | 969 | TOTALS | | | 721 |

It had been a superb weekend, which could not have taken place but for the considerable efforts of Les, Terence, Col.Sgt McGarr and others too many to mention. We would also like to thank the Garrison Commander, their R/Sgt. Major and particularly the Range Staff. Further thanks must surely go to Essex Police, the N.R.A., and Mike of the Herts. and Essex Shooting Association for helping to make it all possible
Return to: TOP OF PAGE or SITE MAP or HOME
---
For enquiries of the Colchester Rifle Club, please email: Contact@Colchester-Rifle-Club.co.uk
Enquiries concerning the website only should be directed to:
The Editor
S.A. Pixley is believed to be the son of Stewart Pixley who, born in 1825, worked at the Bank of England until opening a gold bullion brokership in 1825. He also became a Justice of the Peace. In 1862,

At the age of 37, he won the Queen's Prize at Wimbledon in only the competition's third year. It seems unlikely that Stewart Pixley (Snr.) would have still been capable of making a record score with a Lee-Enfield in 1909, when he would have been nearly ninety years of age.

High achievement at rifle shooting was evidently in the blood.

....................................... Stewart Pixley is shown, right, in 1890

---

Return to: TOP OF PAGE
---