YOU ARE VISITING THE NEW IN-BUILD SITE OF THE U.K. HISTORIC ARMS
RESOURCE CENTRE - MINIATURE CALIBRE RIFLES REFERENCE FACILITY
---
The Colchester Rifle Club History Book
---
The Colchester Rifle Club.....
are pleased to be able to offer a comprehensive and thoroughly researched history of the club.
This finely produced hardback book is available with ~ ISBN No. 0-9547864-0-8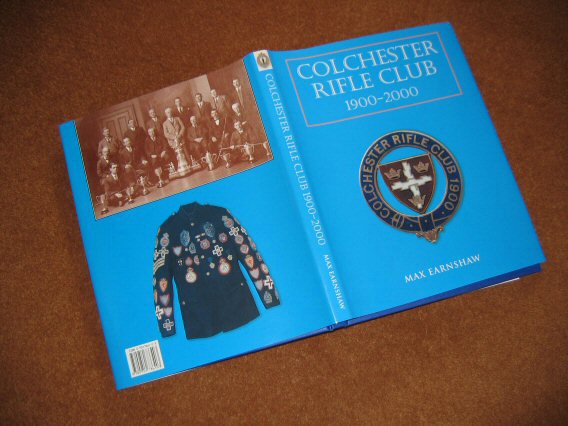 The book's content goes far beyond that of a basic club history. The author, the redoubtable Max Earnshaw, has woven into the story detailed research not only of the club's characters and events over the preceding century, but also information relating to many other aspects. The rifles and equipment in use through the years have been recorded faithfully. Many of these aspects come alive by virtue of the quality and number of photographs carefully compiled during several years of research. Much of that research has been done by Max and a small team of senior club members who are lay military and shooting historians in their own right.
This book will hold the attention of any person with an interest in historic rifle shooting ( and perhaps pistol too). Many of those characters to whom the book refers either are, or have been in their own time, of both national and international reknown. Here is an opportunity to read about fascinating aspects of their shooting careers hitherto unrecorded.
A considerable debt of thanks is owed to all those who assisted with the provision of material for, and the production of, this valuable record. These thanks must go not only to the production team, but also to friends and relatives of the those for whom this book provides a permanent memorial.
DO NOT MISS THE OPPORTUNITY TO OBTAIN YOUR COPY OF THIS FINELY ILLUSTRATED 130 PAGE BOOK -
..........................only 500 have been printed, and more than two hundred are already sold -
CLICK HERE TO - VIEW BETWEEN THE COVERS
.............................................CLICK IMAGE TO - READ TWO REVIEWS ..>...>
This page affords basic information on the Colchester Rifle Club, but a link to the official site is provided below
Visit the website of the Colchester Rifle Club
CONTACT EMAIL: COLCHESTER RIFLE CLUB
PRICED not unreasonably at £25 for this highly specialised and low volume publication
IT WILL BECOME A RARE AND VALUABLE RECORD LONG BEFORE THE END OF THE 21st. CENTURY !
For further information on this fine production, or to reserve a copy, please email:

contact@colchester-rifle-club.co.uk

FURTHER IMAGES ARE SHOWN BELOW

to illustrate what you could otherwise be missing: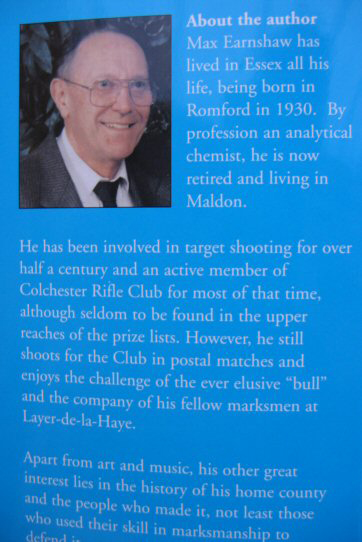 ...........................................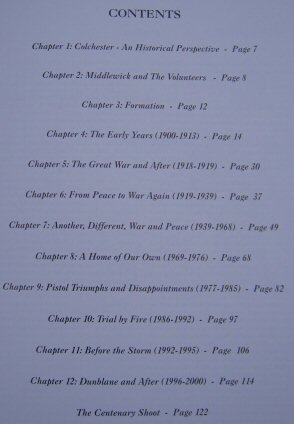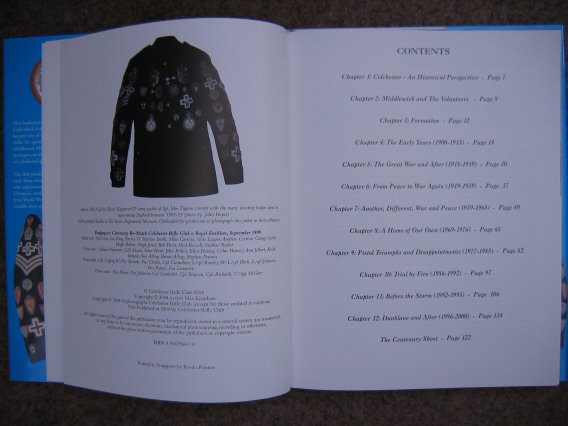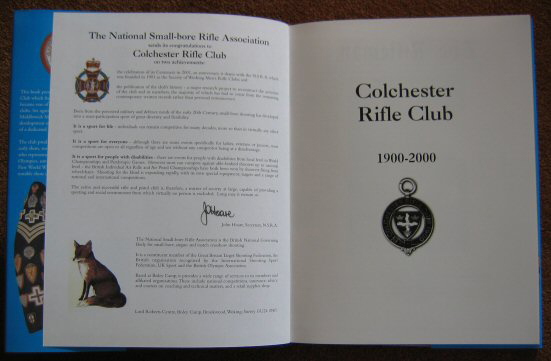 ........................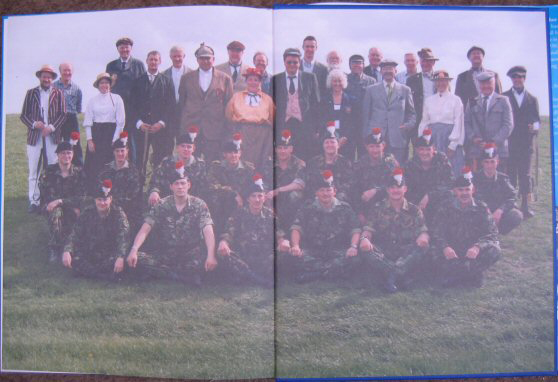 The book is bound with inside covers carrying a photograph of the participants of the Centenary Match
This was a rematch - using both 'Long' Lee-Enfields and SA80 service rifles - held at Middlewick ranges between
Colchester Rifle Club and the Royal Fusiliers
one hundred years after the original match in 1899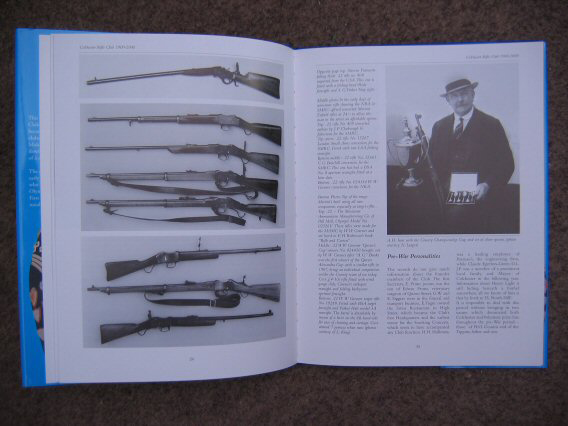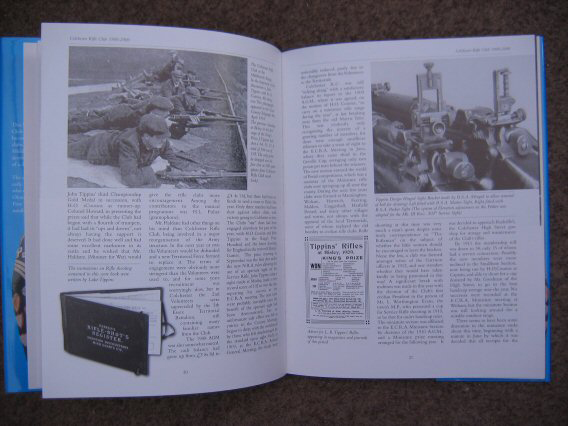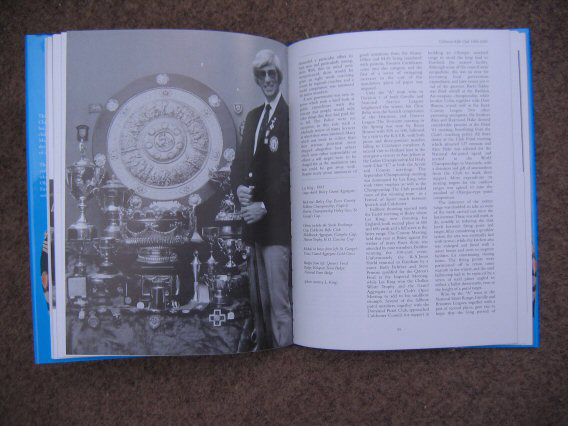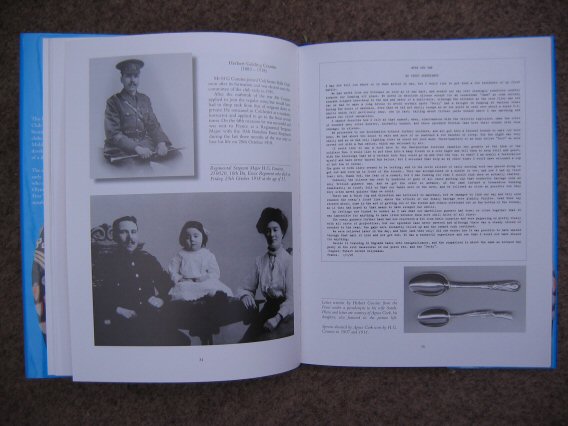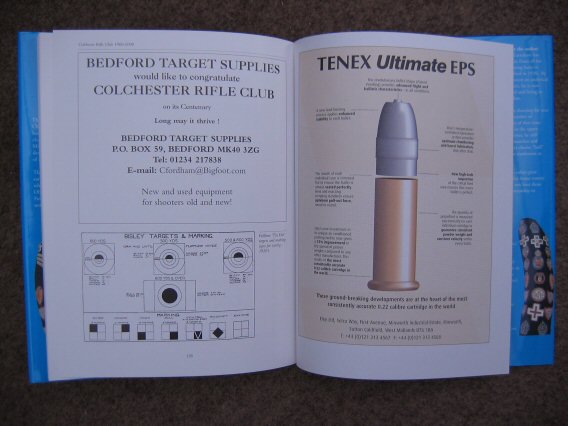 ---
Return to: TOP of PAGE
See this website's Raison d'être