YOU ARE VISITING THE U.K. HISTORIC ARMS RESOURCE CENTRE
...
-
...
BEST VIEWED ON PC
...
-
..
.
FREE OF COOKIES, TRACKING & ADVERTISEMENTS
Please be aware that some specialist rotational imagery on these pages may take longer than usual to load
---
The FINNISH LION TARGET RIFLE
"Suomen Leijona"
---
W.H. Fuller, in his comprehensively informative 1963 book " Small-bore target Shooting", writes of the Finnish Lion that it is
"perhaps the best know weapon typifying the development of the smallbore rifle to the particular requirements of three-positional shooting."
To have described a pure target rifle as a "weapon" was perhaps a forgiveable slip of the pen over forty years ago. In today's politically correct climate, such a description might herald criticism from some quarters. Nonetheless, the message in relation to the "Lion" is clear; it could reasonably be considered as having been a trailblazer.
In its three-positional configuration, the rifle was marketed as seen below:


The off-hand hook butt-plate and palm-rest could be removed and replaced with a plain butt-plate and hand-stop for prone use.
The rifle in its prone configuration is better illustrated below.
The bolt is open and the handle shows in what appears a Mauser-like upright position. In fact the main shaft of the handle exits the action horizontally, but the knob end has a near-right-angle upturn as can be viewed in the next image.

With the bolt closed, its handle drops into a deep recess in the woodwork, with only the knob protruding. Whilst a formidable precision shooting performer, the rifle is really not best set-up for rapid fire competition.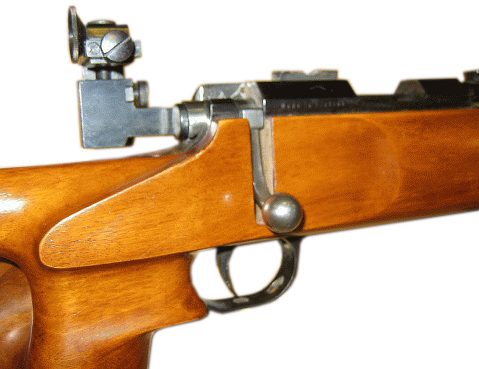 This particular example has been fitted with telescopic sight mounting blocks for use in "optics" competition. The large set-screw locks the fore and aft dovetail of the rear-sight mount, permitting adjustment of "eye-relief" to the shooter's optimum. (Eye-relief is the quite critical distance between the eye and the rear-sight aperture, to give the best definition of sight picture with least distortion or positional effect).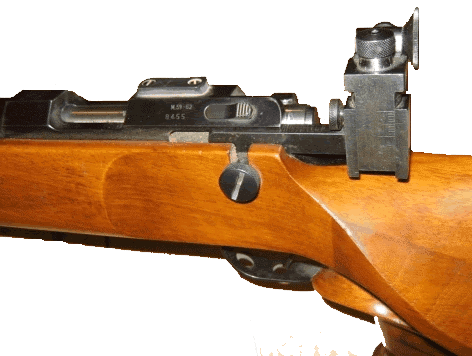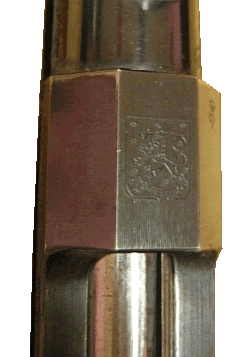 <......................THE FINNISH "LION"
Below is a close-up shot of the "thumb-hole" stock and adjustable prone butt-plate arrangement.
---
Return to: TOP of PAGE
See this website's Raison d'être