![endif]-->
---

SURE-SHOT CLASSIC ARMS at RIFLEMAN.ORG.UK

---

ITEMS ARE OCCASIONALLY ADVERTISED FOR SALE HERE ON BEHALF OF OURSELVES OR ASSOCIATES

These are mainly not-for-profit disposals of the property of departed colleagues for their families.

UPDATED - 28th. OCTOBER 2021

A Firearms Certificate with appropriate variation is required for purchase of S1 items.

Viewing or collection in person, from near Colchester by appointment,

and transfer via your local RFD is possible at cost.

N.B. We regret that we are unable to arrange sales outside the U.K.

Email: Sure-Shot-Classic-Arms@Rifleman.org.uk

Essex RFD

---

Offered at present

A BSA Model 12 Martini-actioned target rifle

_________________

A rare Lee-Enfield No.7 Mk.I .22RF Royal Air Force Training Rifle (SOLD)

A BSA Martini International Mk.III, (SOLD)

A Remington Model 12A (SOLD)

A Taurus .45 calibre long-barrel revolver (SOLD)

The images form a major part of the description
---
We also have a large number of spare issues of GUNS REVIEW magazine for sale or exchange.

No reasonable offer refused for purchase; but add postage and carded envelope at cost.

Check availability via the above link
---
FIREARMS CURRENTLY AVAILABLE
We do not warrant the descriptions in any way, they are just our opinions.
Please study the photographs carefully and email any questions .
---
---
A BSA Model 12 Martini-actioned target rifle.
£285
This is in very good condition, with a high percentage of original finish,
good woodwork commensurate with age and careful usage,
plus a truly excellent shootable bore and chamber.
All correctly matching numbers.
The rifle is fitted with a Parker-Hale PH Model 7A target aperture rear-sight,
and their FS22 tunnel fore-sight with interchangeable elements.
The brass element holder under the fore-end still holds a number of alternative elements.
The images form a major part of the description
More information on the BSA Model 12 can be found here
---
---
---
PREVIOUSLY SOLD ITEMS
---

Taurus .45 calibre long-barrel revolver

In very good condition, and with additional Panoramic rear-sight.

£ 525 ovno

(SOLD)

The images form a major part of the description
BSA Martini International Mk.III rifle
(SOLD)
Drag horizontally to rotate subject - Click to zoom and drag to pan - Full screen viewing from <- ->
This rifle is generally in very good condition, with an excellent bore and chamber,
fine woodwork with very few marks as evident in the photography,
and good blue on the receiver body and barrel.
The limited wear and marks commensurate with the rifle's age are visible in the zoomable images.
The rifle comes with the correct Parker-Hale 25C rearsight with the larger adjusting knobs
and the correct contemporary multi-aperture iris. The fore-sight is the correct P-H Model No.1.
The rifle is also fitted with the correct original optional telescope mounting blocks,
and fitment of a good target 'scope would provide a very economical and accurate bench-rest rifle.
The rifle was extremely well cared-for in the custody of a late colleague of ours,
and was used most recently in the Post-Veteran class of the HARC Postal Leagues.
Additional photographs can be supplied on request,
but the above imagery allows every aspect of the rifle to be viewed close up.
More information on the Mark III International may be found HERE.
---
Lee-Enfield No.7 Mk.I - the .22RF Royal Air Force Training Rifle
One of only 2,500 manufactured by the Birmingham Small Arms Company.
Further detail of these rifles can be found HERE
This rifle is a much sought-after model of the Lee-Enfield family.
Usually fitted with a magazine that had a five-round insert for the .22LR cartridge,
this example has the far more scarce single-loading platform
that was a R.A.F. modification come across very rarely.
If one thought the 5-round magazine difficult to find,
then try locating a rifle with the single-loading conversion.
Hen's teeth would be the perfect description.
We have only seen three in the last twenty years, and this is one of them.
The rifle will also take the 5-round magazine if you can find one.
More information on both magazine types is available on our page for the No.7 Mk.I rifle.
The rifle is serial numbered 'BS 2195' of the B.S.A. contract for only 2,500.
(SOLD)
The rifle is of genuine original R.A.F. issue,
with matching serial numbers, and the appropriate military marks.
It has also been subsequently correctly civilian proofed,
as is required for it to be sold out of service.
A telescopic sight has been at some time been fitted,
and there are three neatly blanked-off threaded holes
in the left-hand-side of the receiver where a mount was attached.
We have been unable to identify the type that would have been used.
The marking of "No.7 Mk.1" is still present,
although partly obscured where the mount was fitted;
it is just visible in the photographs.
The bore, rifling and chamber are excellent; in fact as good as we have seen on any No.7.
All in all this would be a fine acquisition for a collection of training rifles.
'Rifleman' already has one in their own archived collection,
so this extremely rare example is surplus to requirements.
Further detail of this extremely rare adaptation can be found HERE
N.B. Another No.7 rifle with the more usual five round magazine insert sold at the Australian Arms Auction
in December 2020 for an equivalent total of just over £3,785.
---
Remington Model 12A .22RF Slide-action rifle
FOR .22RF SHORT, LONG & LONG RIFLE CARTRIDGES
The photographs are a major part of the rifle's description.
(SOLD)
£185
---
Remington slide-action rifle Model 12A - circa 1928 - patented 1909.
This rifle feeds and actions well.
The rifle is in its original finish, which is deemed good,
with very light sparse pitting only on the action body and blued parts,
and very minor loss of blue here and there on the barrel and magazine tube.
See the photographs for accurate confirmation of description.
Images
Receiver underside with serial number- Image 3
Butt RHS with worst scratch shown in image 5.
Muzzle and fore-sight show worst point of loss of blue and light pitting - Image 9
Proof marks - Image 11
Trigger block and safety - Image 13
Butt plate - Image 14
The action block - Image 15
Chamber view - Image 16
Crown view - Image - 17
Ruger Stainless Steel "Old Army" Revolver in .375 Magnum calibre.
In truly fine condition, and little used.
SOLD
The images form a major part of the description
---
1888 Martini-Enfield converted to a .22 rimfire target rifle by C.G. Bonehill,
for the Society of Miniature Rifle Clubs.
SOLD
The rifle has a good, clean, shooting quality bore and chamber.
With the appropriate height of BSA folding No.8 rear-sight,
in addition to the barrel tangent sight ( with the correct 20/50/100/200yd calibration on the LHS),
there is also a BSA Patent 21332-1908 six-hole adjustable eye-piece.
The images form a major part of the description
Use these links to read more on the C.G. Bonehill or W.W. Greener Martini-Henry/Metford/Enfield converted rifles.
Grünig & Elmiger 7.62mm Target Rifle
SOLD
---
CLICK ON EACH OF THE FIRST SIX RIFLE IMAGES FOR A HIGH RESOLUTION ZOOM
---
The rifle has a stainless Archer barrel fitted, with British proof, in 2012, and bedded into an Anschutz stock.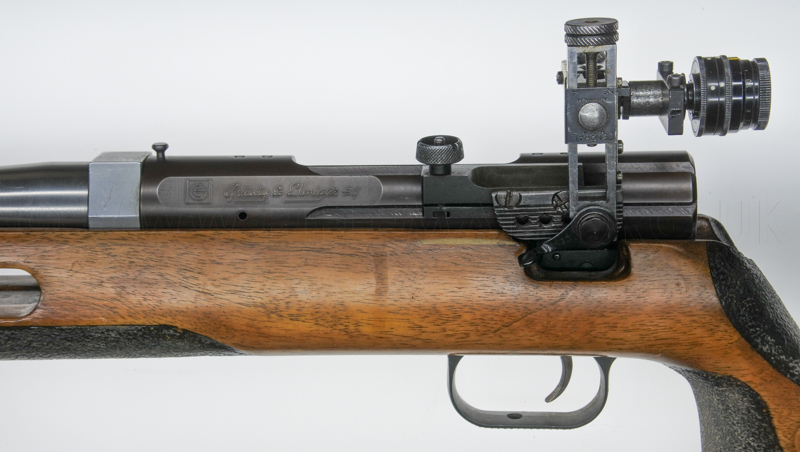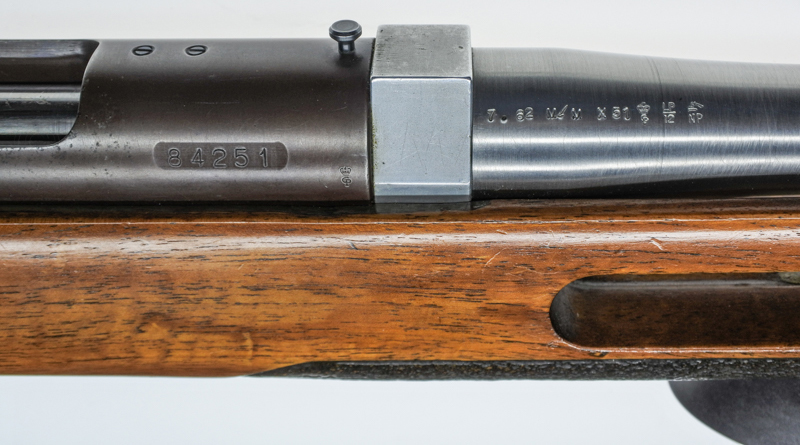 ---
See this website's Raison d'être .................................. Return to Top of Page