THIS IS THE U.K. HISTORIC ARMS RESOURCE CENTRE
..
-
..
BEST VIEWED ON PC
..
-
..
..
FREE OF COOKIES, TRACKING & ADVERTISEMENTS
Please be aware that some specialist rotational imagery on these pages may take longer than usual to load
---
THE "HAENEL KK-SPORT" TARGET RIFLE
---
---
The C.G Haenel factory was located in Suhl, for some years a part of East Germany, and known as the "Town of the Gunsmiths". The company was founded by Carl (Gottlieb) Haenel in 1840 producing military and sporting firearms. Indeed, Hugo Schmeisser - the designer of the famous sub-machine gun, worked at the factory with his brother for close-on twenty years. It is understood that in the 1920s Haenel rifles set no fewer than three World Records in the field of small-bore target shooting. The company manufactured a plethora of shot-guns and bolt-action rifles, but the single-shot small-bore target rifle models were few and far between. The company continues there to this day with the manufacture of its well-respected air-rifles by Suhler Jagd-und Sportwaffen GmbH, now under the auspices of Waffentechnik.
The KK-Sport is shown below with its deep fore-end furniture and elegant under-lever.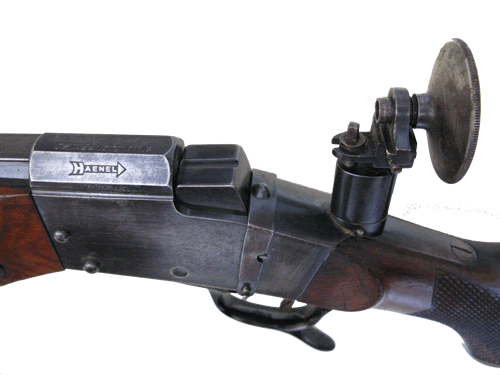 The rear-sight, requiring a key to make windage and elevation adjustments, ahs well-protected workings encased in a solid looking, if not over-engineered, upright.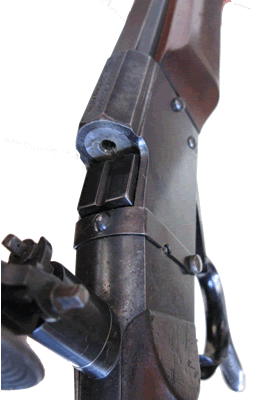 The under-lever operated falling-block type action is reminiscent of the Sharps rifle. The tang on the trigger-guard provides the means by which the breech is opened.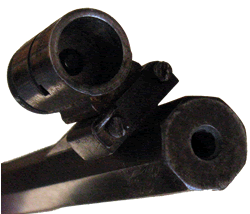 The fore-sight is mounted on a ramp, similar to that of the Barnett Ten-X rifle.
The tunnel fore-sight presently mounted on the rifle is possibly a retro-fitment providing the owner with exchangeable elements for convenient switching between ranges and in varying conditions/

The rifle's manufacturer, model and calibre are clearly marked on top of the action body.
As the name suggests, this action is also to be found on sporting models of Haenel's rifle manufactured in the 1920s.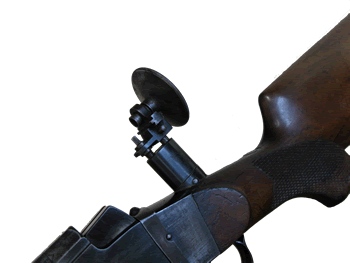 Left is a side elevation of the rear of the action and the rear-sight.
Should you hold any literature or further information on this, or other classic Haenel rifles, we would be grateful to hear from you.
Another very similar contemporary of the above falling-block rifle is the Weihrauch manufactured H.W.52 model
An aspect of Haenels production associated with the subjects which this website covers, was the manufacture of a .22 rimfire miniature-calibre adapter unit for the famous German service rifle, the Gewher K98
---
Return to: TOP of PAGE
See this website's Raison d'être