YOU ARE VISITING THE U.K. HISTORIC ARMS RESOURCE CENTRE
...
-
...
BEST VIEWED ON PC
...
-
..
.
FREE OF COOKIES, TRACKING & ADVERTISEMENTS
---
THE B.S.A. MODEL No. 13 target RIFLE
---
When introduced after the First World War, the Model No. 13 rifle offered a lightweight, almost lady's or young person's style rifle to compliment the highly successful Model No.12 target rifle. The Model 13 was advertised as being suitable for "persons under 10 stone in weight and 5ft. 6in. in height. You cannot be more specific than that!
With a war-time gap, production went on well into the 1950s. The rifle was actually advertised in 1939 and 1940 by the Society of Miniature Rifle Clubs - but no doubt only for the sale of existing stock.
Below: the late model ( "R" prefixed) B.S.A. No.13 rifle

Below is the advrtisement from the 1932 B.S.A catalogue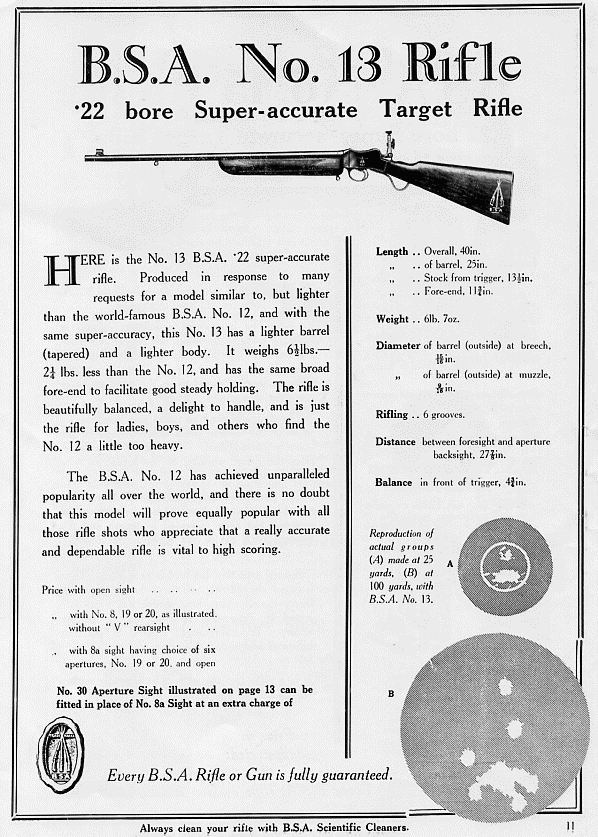 The early, between the wars, production can be identified by the serial numbers being unprefixed. When re-introduced in the early 1950s, the rifles' serial numbers were prefixed with a capital letter "R".
The rifle again advertised in 1951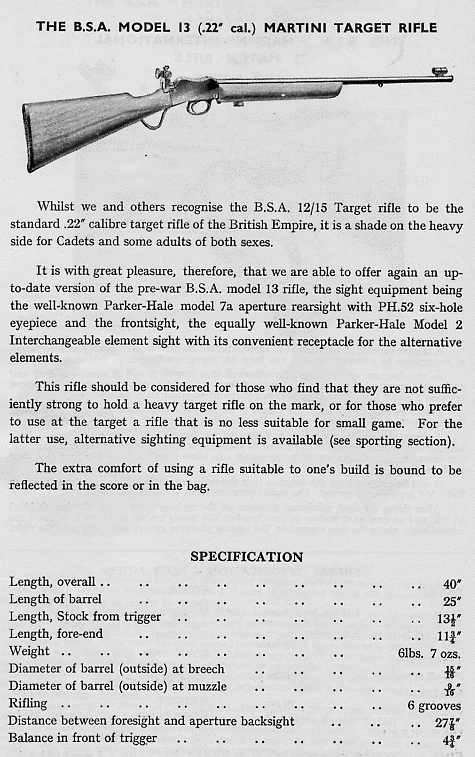 Several barrel weight options came available over the years.
Below is a comparative image of, from top to bottom, the Model No.12, the Model No.13, the Model No.8 and the Model No.6 in take-down form.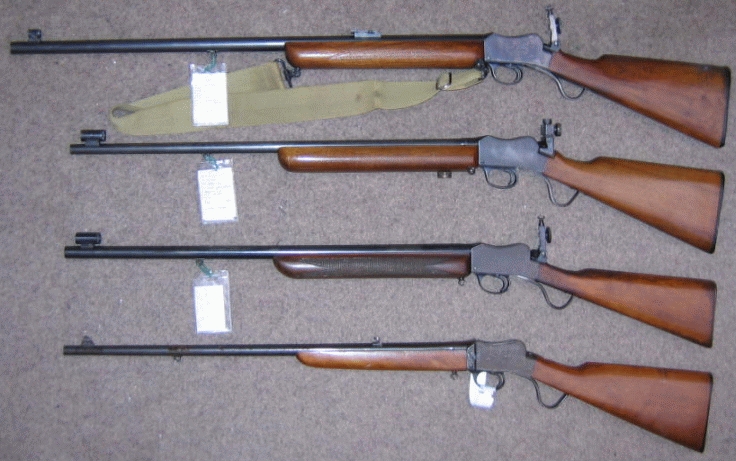 ---
Return to: TOP of PAGE
See this website's Raison d'être