For rifles manufactured by The Birmingham Small Arms Company Birmingham, England
Links to the various models are listed below in approximate chronological order
---
BSA War Office Pattern Miniature Rifle
BSA manufactured & Enfield Training Rifles
SMALL-FRAME MARTINI ACTION RIFLES
NEW ENTHUSIASTS SHOULD BEST START
WITH THE MODEL No.4 FOR BEGINNERS BRIEFING
BSA Models Nos.4 to 4b, 5 and .310 Cadet Model
BSA Models No.15 and Centurion
BSA International Match Rifle Mk. III
BSA International Rifles Mks IV (ISU) & V
BSA .22RF Slide-action (pump) Rifles
The BSA .22RF Armatic Semi-Auto Rifle
The BSA .22RF Ralock Semi-Auto Rifle
The BSA .22RF Sportsman & Supersport
Single-shot and Repeating Rifles
BSA Miniature Rifles - Sights & Accessories
Some unusual Enfield Rifle conversions to Small-Bore Target rifles
Are you seeking spares for your small-bore B.S.A. rifle?
---
OTHER BRITISH or COMMONWEALTH MANUFACTURERS
The W.W.Greener Martini rifles
Westley Richards miniature rifles
The Cogswell & Harrison "Certus"
The Australian Sportco Martini target Rifle
See also: Miniature Calibre Cartridges
In 1936 at Alexandra Palace,
the competition
was not limited to those shooting !
The manufacturers were every bit as competitive! See the advertisements - left and right.
What other rifles were available to the target rifleman, for his sport, to compare with BSA products?
We provide just brief mentions of the main worthy foreign competition
to the Martini International series and earlier marques of BSA rifle.
The Haenel Falling-block Target Rifle
The H.W.Z. (Weihrauch) Martini Rifle
The Weihrauch HWZ Model 21 Martini Rifle
The Weihrauch Model HW52 Falling-block rifle
The Feinwerkbau - under construction
The Unique - under construction
---
For the uninitiated, below are shown diagrams of two types of small-bore target rifle with their common usage part names
THE FIRST DIAGRAM IS OF A TWO-PIECE STOCKED RIFLE
such as THE BSA INTERNATIONAL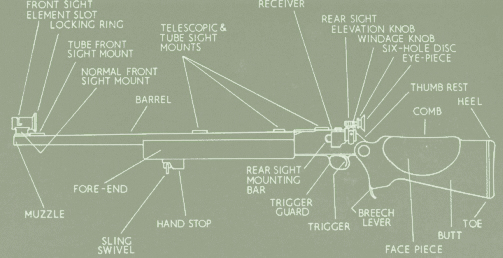 THE SECOND IS OF A ONE-PIECE STOCKED RIFLE
such as the WINCHESTER 52 ; REMINGTON 37 ; ANSCHUTZ 54 ; FINNISH LION ; JUREK , etc.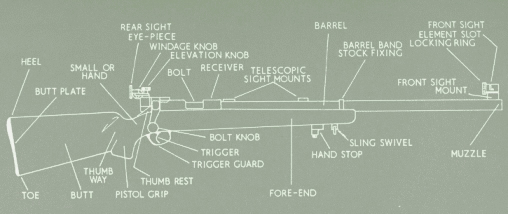 While you are on site, visit the pages on
Enfield small-bore Target & Training Rifles
Any queries or comment? Email the editor: Miniature Calibre Rifles @ Rifleman.org.uk