THIS IS THE U.K. HISTORIC ARMS RESOURCE CENTRE
..
-
..
BEST VIEWED ON PC
..
-
..
..
FREE OF COOKIES, TRACKING & ADVERTISEMENTS
Please be aware that some specialist rotational imagery on these pages may take longer than usual to load
---
The A.G. Parker or Parker-Hale Moderator Adapter
---
Taken from the June 1935 P-H catalogue
It will be seen that, whilst the units are advertised in the Parker-Hale catalogue, the photograph of the moderator attached to the Colt Woodsman Semi-automatic pistol was of an "A.G.P." product.
The earliest yet seen advertisement for these adapters is 1933, suggesting that they were introduced in the very early 1930s. They were not offered by Parkers in 1928 and were no longer advertised by Parker-Hale post-war (1939-45).
The moderator shown was more often attached to a rifle on which the muzzle had been threaded. This adapter permitted the fitting of a silencer without modification of the parent arm; it was particularly useful on pistols.
See A.G. & A.J. Parker, and Parker-Hale
This moderator was fitted to many .22 rifles issued to the "Stay behind" members of the Auxiliary Units of the Home Guard prior to the expected invasion of Great Britain by the Axis forces in the Second World War.
See Winchester rifles used by Great Britain during WW2.
---
THE PARKER-HALE NEW DETACHABLE COUPLINGS

Colt .22 cal. Automatic Pistol fitted with Silencer and Parker-Hale New Detachable Coupling.

The types of coupling shewn on this page have been evolved after a great deal of experience in the fixing of sound moderators and wherever it is practical to use them, they will be found thoroughly efficient, though naturally not so neat as a screw-cut barrel. Couplings however, do help the man who cannot conveniently manage to send us his rifle or to get the necessary lathe work done locally, and these shewn on this page are made to slip on the barrel and fit with the minimum of trouble. It must be realised of course that though they are generally of a standard size, barrels vary in diameter, some to a great extent and others scarcely noticeably; it always pays therefore to give fullest particulars when ordering couplings and in every case to state at least the diameter immediately at the muzzle end, though it is useless to take this measurement other than with a micrometer or other such fine measuring instrument.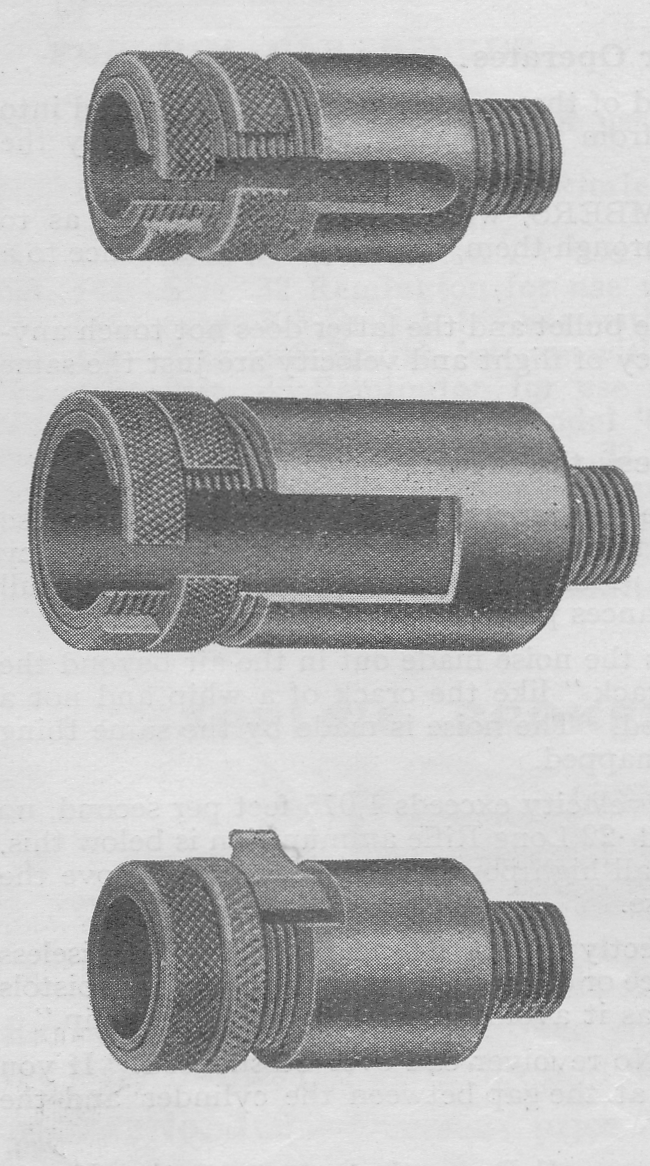 Specially designed for the Colt "Woodsman" -22" cal. automatic pistol, this coupling is fitted by registering the slotted rings with the slot in the Body, slipping the attachment on to the barrel, seating it properly with a mallet and screwing the first ring hard up against the foresight block and locking it with the second (see the complete job above). for 6" barrel Woodsman.
List No: MM.10. Price 8/6. (or M.M.10½ for 4½" barrel Woodsman)
Having a demand from America for couplings to enable the enthusiastic small-bore rifleman to fit a silencer to his target rifle to enable him to practice in his basement without creating domestic trouble, we have adapted the principle of the Colt 'Woodsman" coupling to the popular Winchester "52" rifle. Blanks are also kept in stock for making up to special order at 15/-
List No: MM.12 Price 12/6
The foresight shewn is not supplied with this coupling; it is superimposed merely to explain the method of fitting this type of coupling to those rifles which are not provided with a convenient foresight block of dimensions suitable for an attachment similar to the two shewn above. When ordering this type a very exact sketch giving measurements in detail is required. It is not stocked in finished condition for any rifle in particular but blanks are kept ready for making up to order.
List No. MM.13. Price 12/6
PARKER-HALE SOUND MODERATORS ARE FULLY DISCUSSED IN THE LEAFLET PROVIDED FREE ON REQUEST
See also: A.G. Parker Moderators Catalogue - 1939
---
A similar Parker-Hale moderator was employed by the Special Forces and SOE on British pistols and the German Luger P'08 pistol during the Second World War. This can be seen on the Silenced SOE Luger.
See also Parker-Hale Sights
Thank you for taking the time to view this page. We hope it has been of interest
Click here for Chronology of Enfield genre Training Rifles, Adapters & Cartridges
---
Return to: TOP of PAGE
See this website's Raison d'être