YOU ARE VISITING THE U.K. HISTORIC ARMS RESOURCE CENTRE
...
-
...
BEST VIEWED ON PC
...
-
..
.
FREE OF COOKIES, TRACKING & ADVERTISEMENTS
Please be aware that some specialist rotational imagery on these pages may take longer than usual to load
---
LEE-ENFIELD RIFLES in CONTEMPORARY VIDEO CLIPS
---
The Pathe News videos available here variously show film covering
the Pattern '14 No.3 Rifle, the SMLE No.1 Rifle and No.2 Rifle,
the No.4 Rifle and the FN-SLR Rifle and the EM-2 Bull-pup precursor to the current SA-80 Rifle,
plus Service Rifle Target shooting at BISLEY CAMP RANGES Post WWII
Below from the first three links to video clips, are three training films made by Walt Disney during the war,
at the expense of the Canadian Government, and therefore the latter's property;
and a 1940 newsreel of the Boys Anti-Tank rifle in training use.
CLICK ON EACH BOX or LINK BELOW TO START VIDEO
TRAINING FILM PART 1..........TRAINING FILM PART 2 ......... TRAINING FILM PART 3 ............1940 NEWSREEL ..........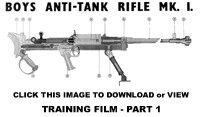 ............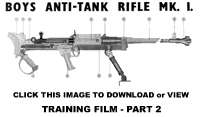 ............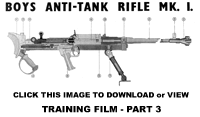 ............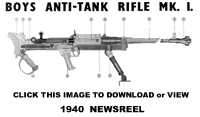 See also the OPERATING MANUAL the S.A.T. PAMPHLET the ARMOURERS' INSTRUCTIONS the ILLUSTRATED PARTS LIST
or go back to the BOYS A.T.R. main page
---
View a Pathe news clip of the rifle in use at a contemporary 1950s military demonstration.
This would quite possibly have been the same international event
described in the New York Bureau's news report attached to the photograph,
already here illustrated, of Corporal Unworth and a colleague
respectively carrying the EM-2 bull-pup trials and Lee-Enfield No. 4 rifles.
---
Here is a Pathe News video covering the introduction of "The New Rifle" - the FN SLR L1A1
A film of the Home Guard video in training with the Enfield Pattern '14 (No.3) Rifle
Pathe News film of Cadets at Bisley in 1953 with the Lee-Enfield No. 4 Rifle
This last Pathe Film shows the Fulton Family of Bisley fame. Sergeant Fulton,
who ran the famous Bisley gunsmiths still extant, twice won the King's Prize.
He is shown here shooting, and usefully employing his black labrador gundog.
He is firing his Lee-Enfield No.1 rifle (SMLE), his father is shooting his Martini-Henry,
and his son is shooting a Model No.1 BSA miniature rifle
Thank you for taking the time to view this page. We hope it has been of interest
---
Return to: TOP of PAGE
See this website's Raison d'être