---
Joint Miniature Rifle Meeting to be held
on Saturday 4th April 2020
including a display of Classic and Historic Sporting Rifles & Shotgun
IMPORTANT NOTE :
THIS EVENT HAS BEEN POSTPONED
due to the precautions being taken as a result of the Coronavirus outbreak.
Notification of a new date for the competition will be given in due course.
---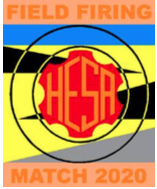 Download the
2020 Invitation, Entry Form & Information Sheets as a PDF file
2020 Invitation, Entry Form & Information Sheets or as a Word Doc(x)
Images of the Targets used and of the Scoring system are both included with the information sheets and shown below
For other events check the HESA NEWS PAGE
---
VIEW or DOWNLOAD the 2014 RESULTS as a PDF File
VIEW or DOWNLOAD the 2013 RESULTS as a PDF File
VIEW or DOWNLOAD the 2012 RESULTS
VIEW or DOWNLOAD the 2011 RESULTS
---
DON'T MISS THIS EVENT
The next Mini-Methuen Event will be in early November 2019
---
THE FIELD-FIRING MATCH
This Open Individual competition affords an opportunity for collectors and shooters of classic miniature-calibre rifles to air their proud possessions in an unusual and enjoyable way. The event provides a loose representation of field firing training using targetry based on snap, figure, landscape and tin-hat targets variously in use between the 1920s and post the Second World War.
The four practices are all timed, with those times set to present a reasonable challenge in sympathetic consideration of the many rifle types and ages that are eligible.
An image of the target used, with relevant notes, is shown below, and another giving scoring detail below that.
A further image of the target giving scoring details is shown below
---
The Field Firing Match
Classic Miniature-calibre Rifle Open Competition
Saturday 9th. March 2017
.................. at the Herts & Essex Range, Great Leighs, near Braintree. This Open competition is mainly for .22" rifles, using classic targets. All versions of .22 rimfire smal-lbore may be used, plus such miniature calibres as .297/230(Morris) and .310 Cadet. Shot in different classes, any action is eligible, manual or self-loading. Any sights are eligible – open, military, target, or optic - and each will be shot in its particular class. We have made some minor amendments to classes, so please read the notes carefully. Get in touch if you have any questions.
The Herts & Essex Shooting Association Range is an indoor 25 metre range near Great Leighs, midway between Chelmsford and Braintree. A map will be sent to competitors.

CLOSING DATE FOR ENTRIES – 28th. March 2017
No late entries will be permitted as the entry list will be closed for squadding after the above date.
The organisers reserve the right to amend competition regulations and classes without notice as may be necessary depending upon entry numbers and in the interests of fairness.
Download the aboveInformation sheet & Entry Form as a PDF file
In the latter part of the year, another similarly styled competition, with different targetry, and representing the Methuen event will take place. Details will appear here in due course.
The MINIATURE-METHUEN Competition
Return to: MAIN MENU PAGE or SITE MAP or HOME
Return to: TOP of PAGE or MAIN MENU PAGE or SITE MAP or HOME
SITE MENU...SITE MAP...HOME...SEARCH...ENFIELD RIFLES...TARGET RIFLES...TRAINING RIFLES...SIGHTS...AIMING...TARGETS...LITERATURE...SUB-CALIBRE...SUB-TARGET...MISCELLANEOUS...BIBLIOGRAPHY...CHRONOLOGY...LEAGUES...COPYRIGHT...LINKS