![endif]-->
---
BSA, A.G PARKER and PARKER-HALE
SIGHTS and ACCESSORIES
---
Are you seeking spares for your small-bore B.S.A. rifle?
---
---
---
plus the Parker-Hale Service Rifle Target Sights, and the Parker-Hale Optical Sight Set
- and note that
Complete catalogues of BSA Rifles and Sights through the years
are available to view as PDF files from the BSA CATALOGUES page
---
One of the most well known aperture sights used on BSA rifles was the range of No.8 folding models. These excellent sights were still offered as original equipment on some rifles sold long after the sight's introduction. Many more were sold as after-market items, indeed, there is still a world-wide market for these sights, generated by the owners of the many models of classic BSA and other similar rifles still serving so well in historic competition.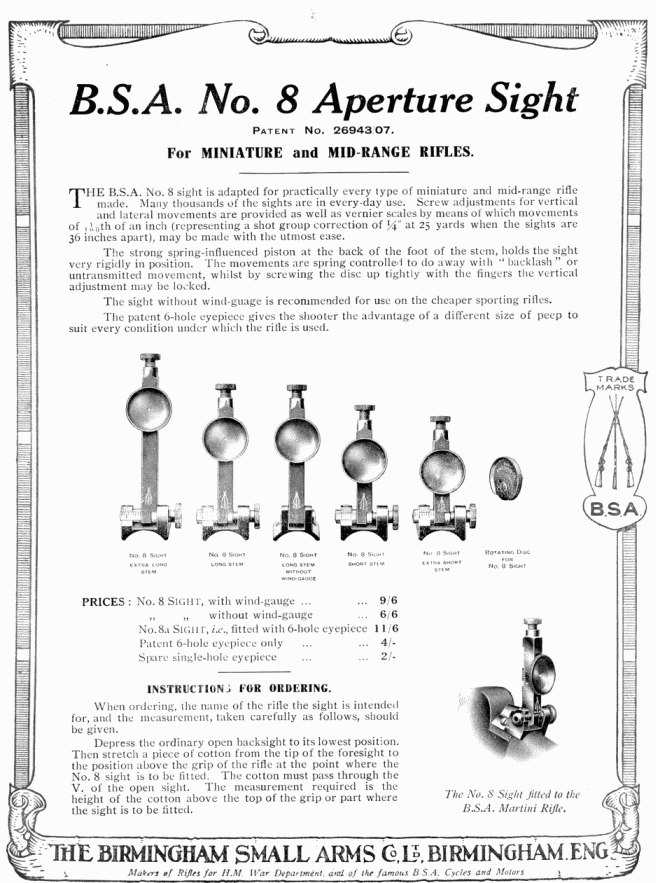 A word of warning to any classic rifle shooter wishing to purchase one of these fine and useful sights for fitment to his or her prized rifle. The height of the sight may be critical to its suitability for any particular rifle' iron-work or butt-stock configuration. Do research your specific needs carefully before paying a not inconsiderable sum for a sight that proves too short for practicable use. Whilst initially frustrating, such an event has the 'silver lining' that the purchase of another classic rifle to which the sight is suited will correct the problem most satisfactorily!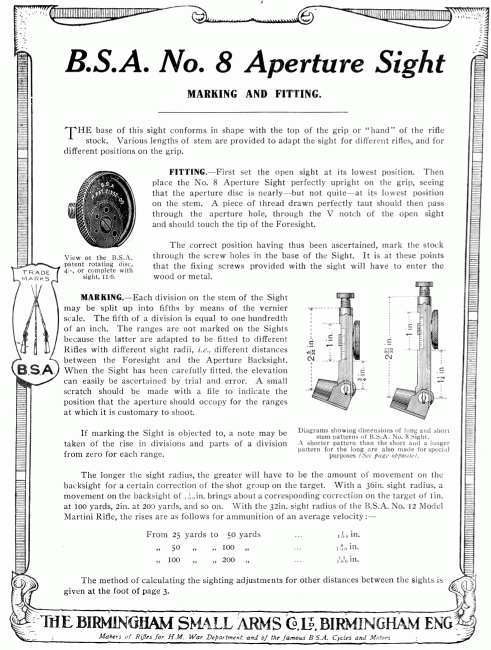 Many target models of BSA rifles sold, from the second decade of the Twentieth Century, were fitted with BSA's own No.19 model tunnel fore-sight, which usually had an internal tip-over element comprised of a rectangular blade and a ring aperture. Being rather diminutive in overall size and aperture size, they were soon superseded. Parker's even sold a fine tapered reamer to permit adjustment of the ring aperture, but this was a one-off excercise. Many of these No.19 sights were replaced with tunnel fore-sights with interchangeable elements, as soon as these came available. This has resulted in a comparative rarity of the No.19 sights on those rifles first sold with them as original equipment.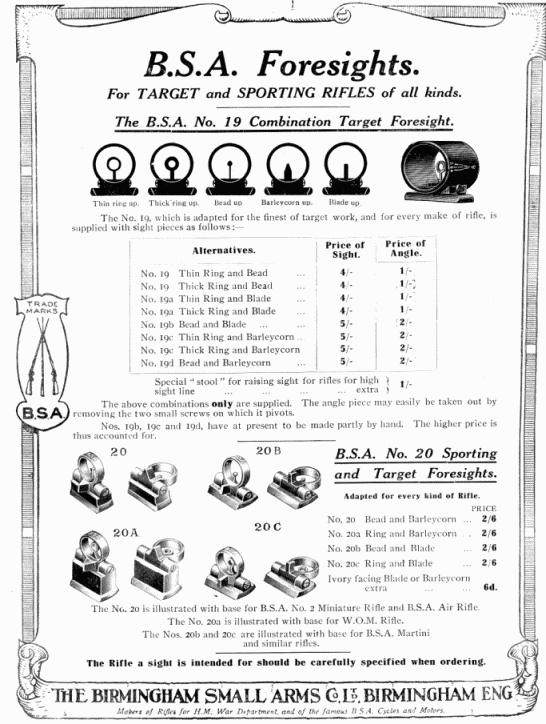 Note above the Model 20 range of folding target and sporting fore-sights

Below is the A.G. Parker ( eventually Parker-Hale) No.2 Tunnel fore-sight introduced circa 1930 and utilised, in similar format as the PH.1 with varying heights of mount, right up to the demise of the BSA International Target Rifles in the mid 1980s. The design, with interchangeable ring and blade elements, was imitated by many foreign manufacturers over those seventy years or so.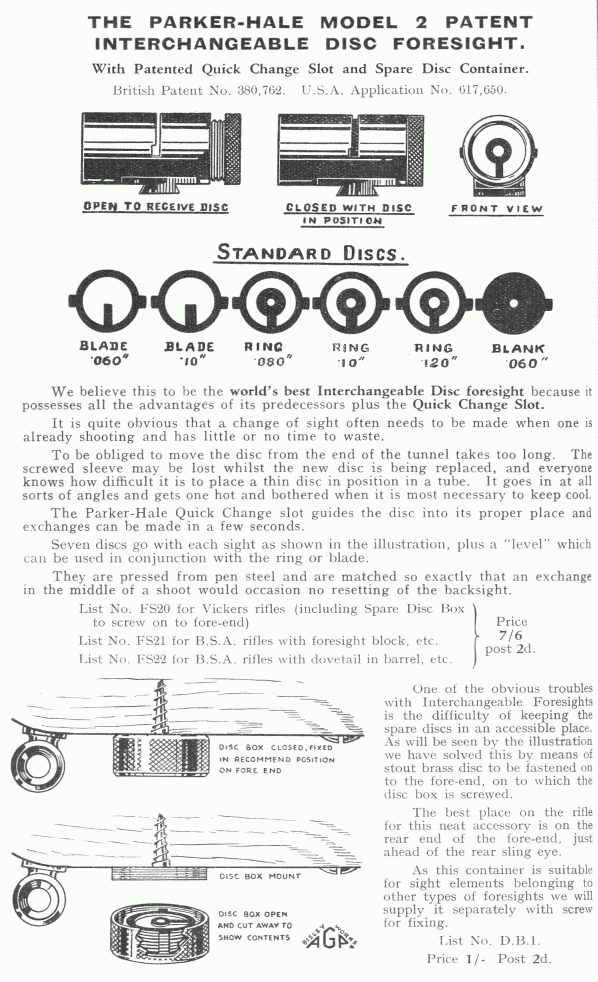 BSA manufactured their own version of the PH Model 2 fore-sight. This product was BSA's No.20 model of the early Thirties, which differed in that the interchangeable elements were fitted from one end and locked in with a finely threaded internal sleeve with a knurled flange for finger tightening and unscrewing, rather than the the Parker-Hale Model 2, which received the elements through a slot across the top of the tunnel and locked with a similar threaded sleeve which only required backing-off a few threads before the element was released or locked, rather than needing the complete removal of the sleeve.
The then Model 20 fore-sight, shown below, was strangely given the same nomenclature of a fore-sight sold by BSA some 20 years earlier, and illustrated in an earlier advertisement on this page.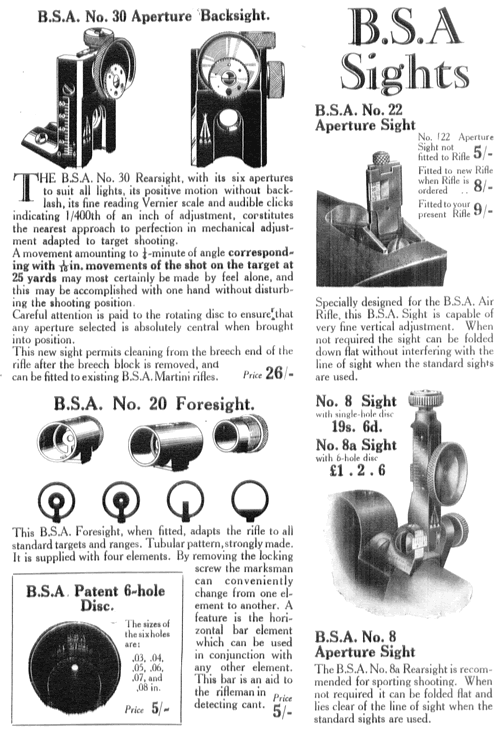 Interestingly, the later FS22 tunnel fore-sight manufactured by Parker-Hale and standard equipment on the post-war (1939-45) BSA Model 12/15 target rifle, was to the BSA solid tunnel design. P-H's own No.2 sight was then the only model they advertised for sale as a separate item.
Parkers and Parker-Hale quite probably manufactured sights for BSA at a point earlier than might perhaps otherwise be assumed. They developed a very close association with the Birmingham Small Arms Company over many years, and it is quite possible that they manufactured sights carrying the BSA logo rather than their own. By the time BSA introduced the Martini International target rifle in 1950, all the sights for these rifles were provided by Parker-Hale and so marked.
---
Parker-Hale's equivalent of the BSA No.30 rear sight were their No.7 and 7A models.
The relevant section from their brocure is replicated below
PARKER-HALE APERTURE SIGHTS
For small bore target rifles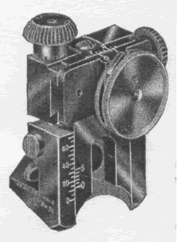 In addition to the service rifle aperture sights dealt with in this booklet we manufacture a comnprehensive range of precision aperture sights for smallbore target rifles, and many makes of sporting rifles.
The illustration shows our Model 7A which has become practically standard equipment on most British made smallbore target rifles; this sight has bean adopted by B.S.A. (Guns) Ltd. for their famous Martini action .22" cal. target rifles, Model 12, I S and Model 13, which may be taken to imply that no better equipment of this type can be found.
The Vickers Company also produced equivalent rear sights for their Martini-actioned small-bore target rifles, a folding version for their Mk.I rifle, anda the "Perfection" Model for the later rifles, itself incorporating the same clearance hole for a cleaning rod.
---
Both the Parker companies and Parker-Hale produced a range of "dual purpose" sporting / target sights appropriately named the "Sportarget". There were around a dozen versions of this sight manufactured with different mounts for use on a multiplicity of rifles. We hope to illustrate these in due course. One of the best know uses of these sights in the training arena was as a retrofit on the Mossberg M42-B U.S. Lend Lease rifles

PARKER-HALE'S SPORTARGET` SIGHTS
For sporting rifles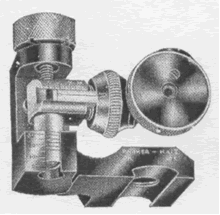 The "Sportarget" is an all British aperture sight of sporting appearance with all the attributes of an expensive target sight. Due to the long and careful thought given to the design it can be readily adapted to fit a large variety of sporting rifles. We illustrate the Model PH 16E selected at random; this particular model is made to fit on the dovetail of the .22" cal. Mauser bolt action rifle by means of a single set screw and clearly shows the general construction of this type of sight.

Over the past 50 odd years our aim has been to produce or factor every¬thing that the user of rifle, pistol or shot gun is likely to require. In pre-war times we were justifiably proud of our ability to supply "Everything for Shooting." Under present day conditions we find it more difficult to carry out this slogan to the letter.
We are, however, able to offer a most excellent range of alt the best available arms and shooting accessories which are fully described and illustrated in our general catalogue. This is probably the most comprehensive publication of its kind in the trade today. In addition to listing hundreds of accessories there are interesting technical articles by practical shooting men and a best of useful hints and tips. This catalogue has become universally known as
• Full details of the complete range of aperture sights manufactured will be found in our General Catalogue
---
For use with aperture sights

THE only other feature of the sight to which attention need be drawn is the six-hole eyepiece; for a minority the six-hole eyepiece is "out" but we cater for those who are prejudiced by making a range of single hole eyepieces. Whatever reasons may be advanced to support the preference of this minority for a series of eyepieces with varying aperture sizes to be screwed out and in according to prevailing light, we as manufac¬turers and users can reassure our readers of the reliability and efficiency of the modern six-hole eyepiece of our manufacture.
The methods that are adopted for making a finished job after assembly ensure the feature of perfect centralisation which is implicit in the name "dead centre." In our eyepieces we provide a range of aperture sizes sufficient to cover the needs of all marksmen, viz.: .03", .04", .05", .06", .07" and .OS". An inexperienced shot tends to use the smallest aperture, under the mistaken impression that he will minimise errors of aim. This supposition is not borne out in practice chiefly due to natural laws particularly relating to the eye. The main consideration affecting the size of aperture is definition of foresight and target, which incidentally cannot both be in focus together. Under bright conditions, quite a small aperture will give excellent definition without too much loss of light. Under dull conditions, a little loss of definition is inevitable because a larger aperture is needed to pass sufficient light. In conditions of restricted illumination the natural habit of the eye is to seek maximum light, which normally is obtained by centreing the object seen through the aperture.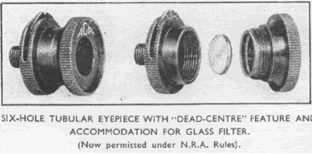 See the associated "Jefery" Aim Teaching device designed for use with this eyepiece
---
See also some equivalent sights by the famous Westley Richards company,
Parker-Hale Service Rifle Target Sights
and the Parker-Hale "Targetscope"
---
The BSA and Parker Companies produced many sights for target use on Lee-Enfield rifles, some of which sights were utilised by those target shooting rifle owners who volunteered for Army service early in the First World War. These 'sharpshooters' were some of the formative members of that war's scouting and sniping fraternity, along with the estate staff from many large country homes, not least the Scottish contingent from Lord Lovat's part of that country, whose number were known as the Lovat Scouts.
Below are details of, and fitting instructions for, the BSA Parker No.9 aperture target rear-sight; we replicate the appropriate papers.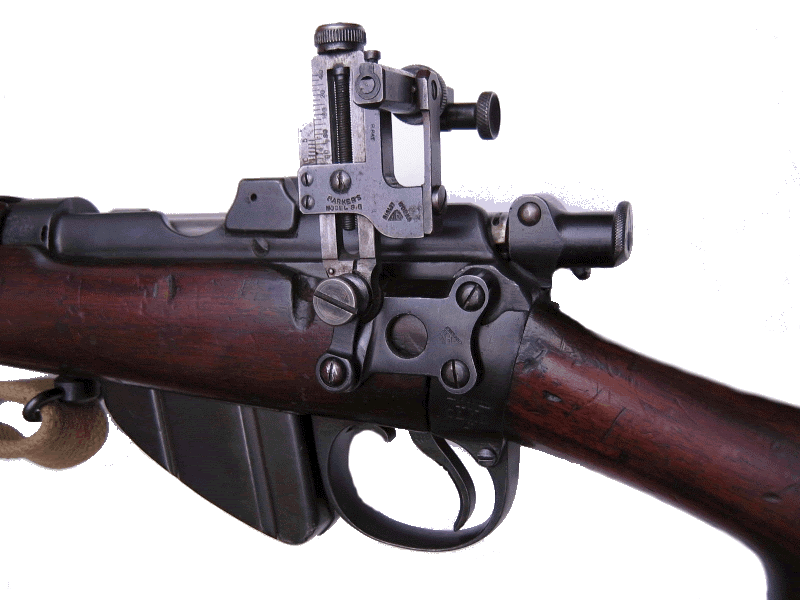 Above: The Model 9G sight fitted to a C.L.L.E. (Charger Loading Lee-Enfield). The mounting plate is the Parker No.SP.3 for the 'Long' Lee-Enfield Rifle, requiring drilling and tapping of the lower rear screw hole in the butt socket. See details relating to sight and rifle marques below. It is just possible to distinguish th triangular logo of A.G. Parker ( AGP ) within the name of their " BISLEY WORKS", on both the sight frame and the mounting bracket.
The above rifle started life as a Victorian L.E. Mk.1 (L.E.1) of 1897 manufactured by what was then the B.S.A. & M. Co. (Birmingham Small Arms and Metal Company). It was converted, in 1908, to a C.L.L.E. Mk.1*.
Whilst really a full-bore service rifle sight, it is occasionally found fitted to early .22 Long Lee-Enfield and Short Lee-Enfield training cum target rifles. It was also one of the sights, in its earlier marks ( e.g. the 9C being the 1912 model), used early in the Great War (1914-1918) for what could loosely be called "sniping" by marksmen, often those with pre-war target rifle experience, prior to the initial introduction of telescopic sights circa 1915.
Below is an image of the rifle with the sight folded down to permit use of the open service sights.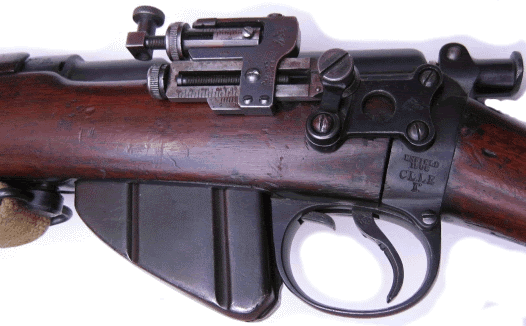 The Model 9G sight was advertised in the Parker and Parker-Hale catalogues, as below in 1936, right through from its inception early in the Century up to the mid 1930s - more than ten years after the introduction of its successors, the Model 5A, brought out in 1925, and the later Model 6A and "Twin Zero" sights. The 1936 advertisement is vitrually identical to that of 1925.
The various mounting brackets that were available are shown below, with mention that some are suitable for use with the earlier Model 9C.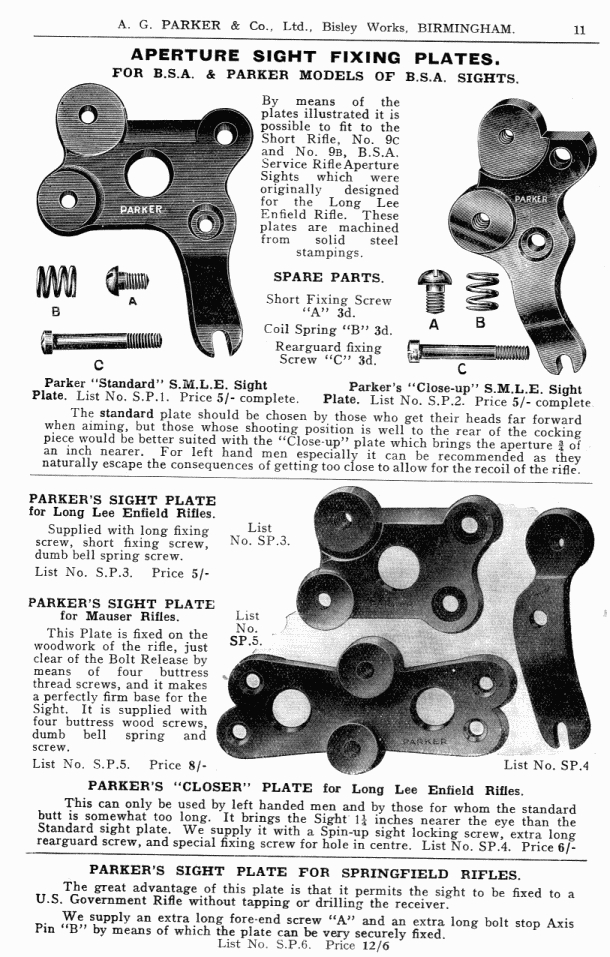 The sight came in a box as below ( Thumb screw missing)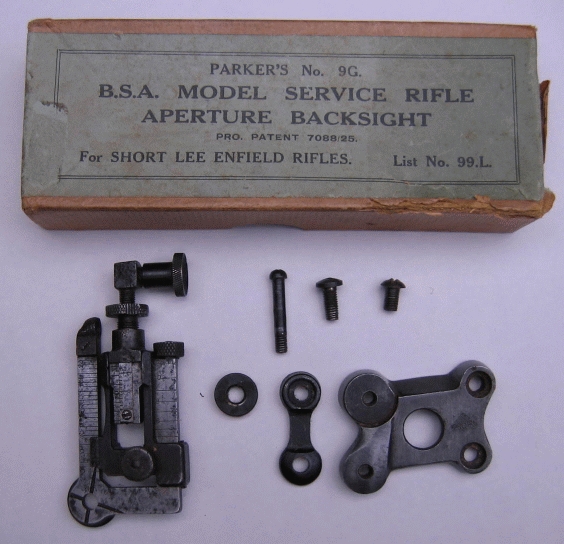 along with the instruction sheet below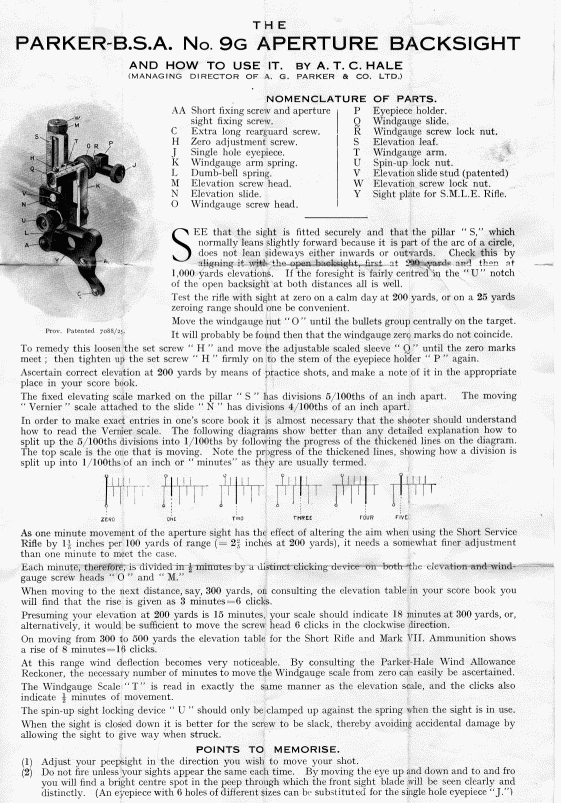 and the envelope, containing the selected mounting bracket, and carrying the fitting instructions for same.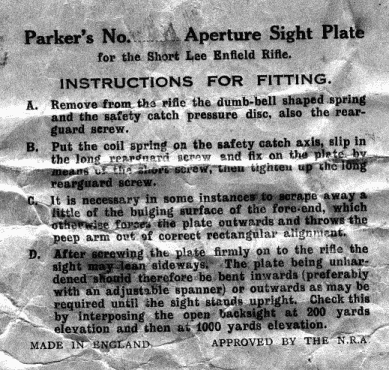 Below is an advertisement for the Model 9C reproduced from Alex Martin's catalogue ca 1914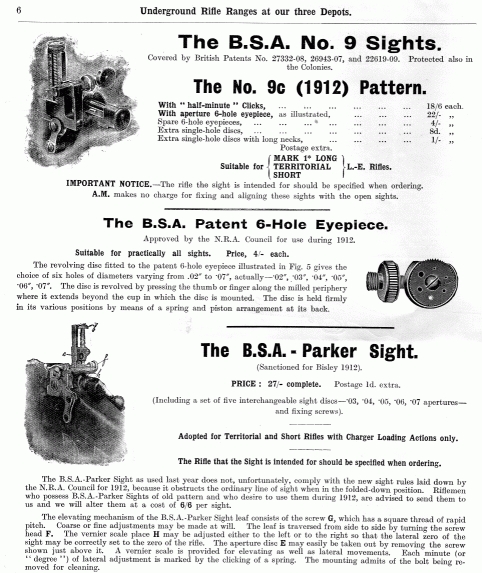 Below is a replication of a page from the BSA 1912 catalogue, showing the Model 9C and, below that, the equivalent page from the 1909 catalogue, showing the original Model 9 and its own mounting arrangement (and the early Model 8 folding sight).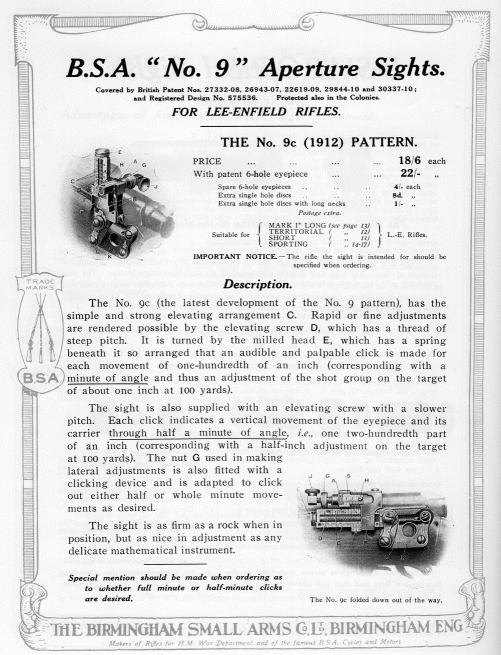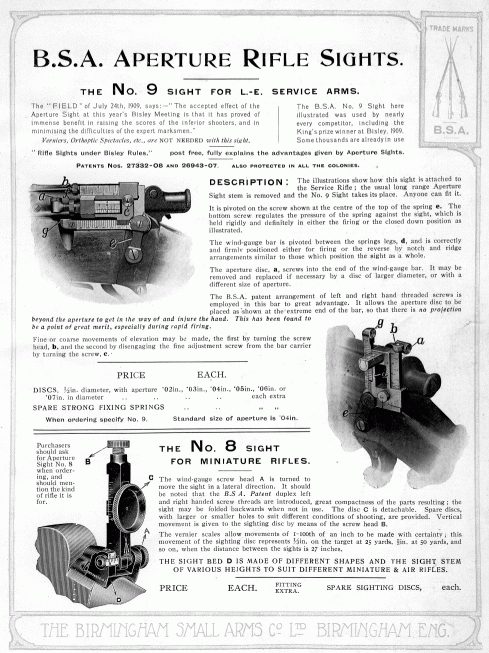 We hope this is of some help
The Parker model 5A rear-sight is covered on the page for SERVICE RIFLE SIGHTS
but a BSA rear sight patented in 1927-28 is worthy of particular mention.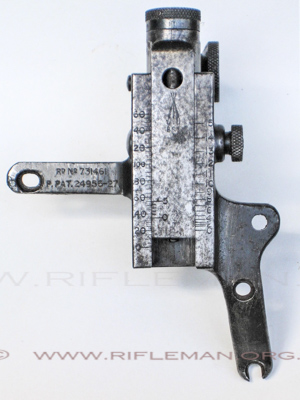 ....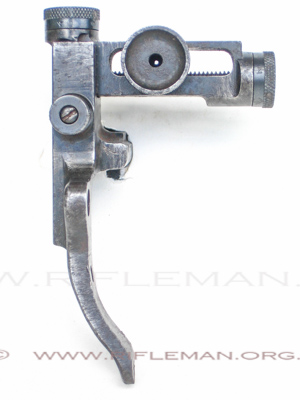 .....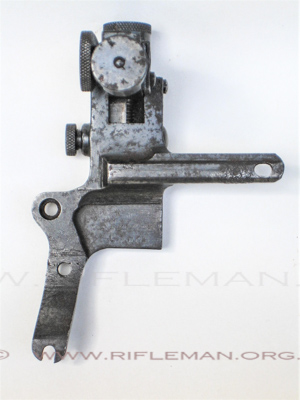 Much greater detail of this sight and its patent can be found HERE.
---
The Parker-Hale Model 5B rear-sight for the Rifle No.3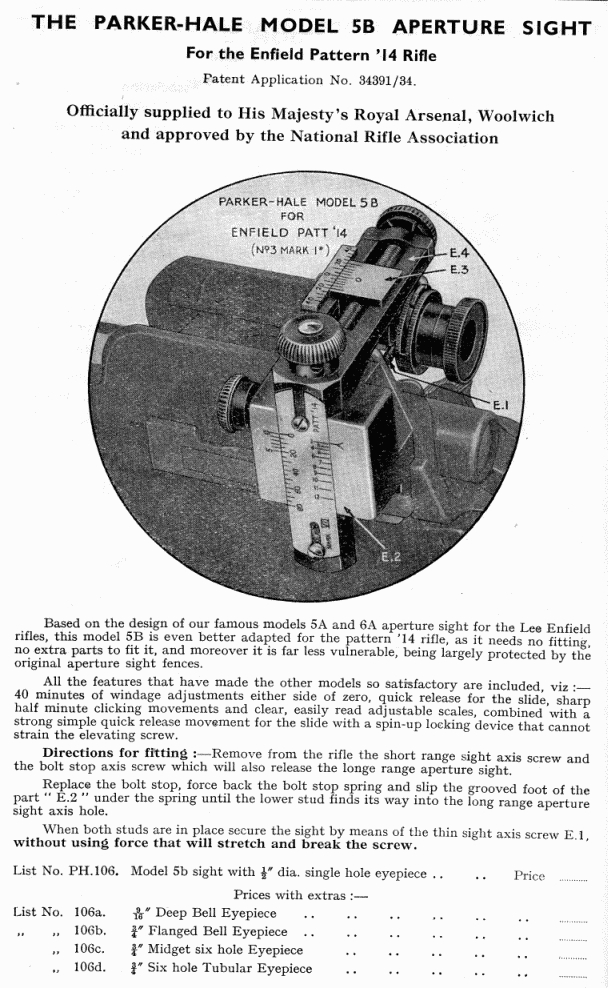 Complete catalogues of BSA Rifles and Sights through the years are available to view as PDF files from the BSA Catalogue page
plus the Parker-Hale Service Rifle Target Sights, and the Parker-Hale Optical Sight Set
---
Return to: TOP of PAGE
See this website's Raison d'être